Imagine, finding out that all of your hard-work mailing out your Biz Opp Mailers was being taken advantage of by other Mail-Order Professionals in the industry. Well, I was pretty ticked off when I found out what was happening. I think you will find yourself pretty ticked off too. If you are in the Direct-Mail Business or thinking of getting involved, take a look at this...



I pretty much found out that because of this scam all of my hard work assembling my mailers to mail out to the mailing lists I purchase was just playing into the game the "Pro's" have set-up to keep regular people like me and you running in circles and not getting any results!
The 4-page letter below is a reprint of the the letter I received and now mail out to earn money. It talks about the scam that's still going on to this day. Please read the 4-page letter thoroughly so that you can start implementing it in to your Mail-Order Business/Direct-Mail Business. You can download a copy of this 4-page letter below.
PLEASE TAKE THE TIME TO READ THE 4-PAGE LETTER BELOW BEFORE YOU DECIDE TO CLICK AWAY FROM THIS PAGE.

THIS COULD CHANGE YOUR LIFE!!!

Read the 4-page letter below...
-- Page 1 --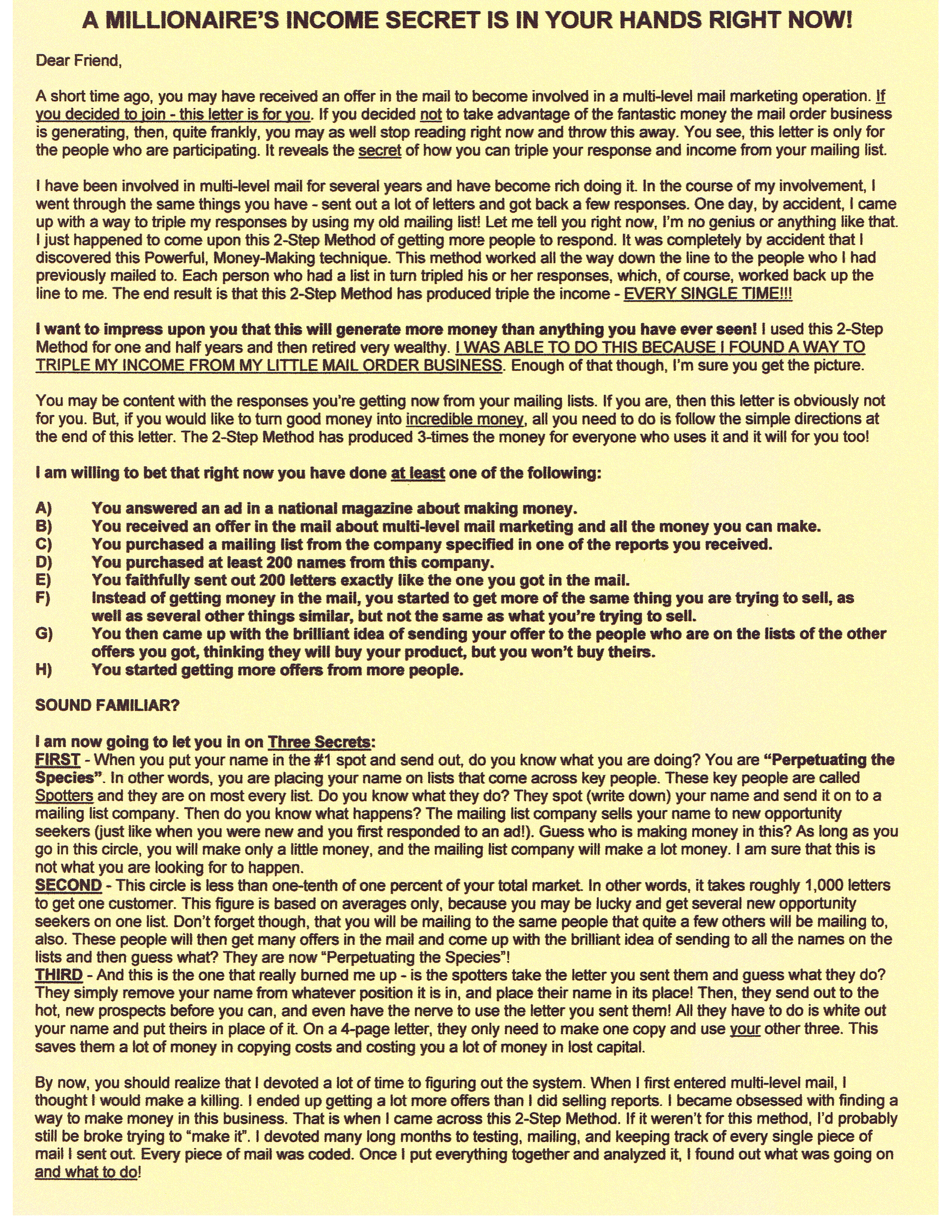 -- Page 2 --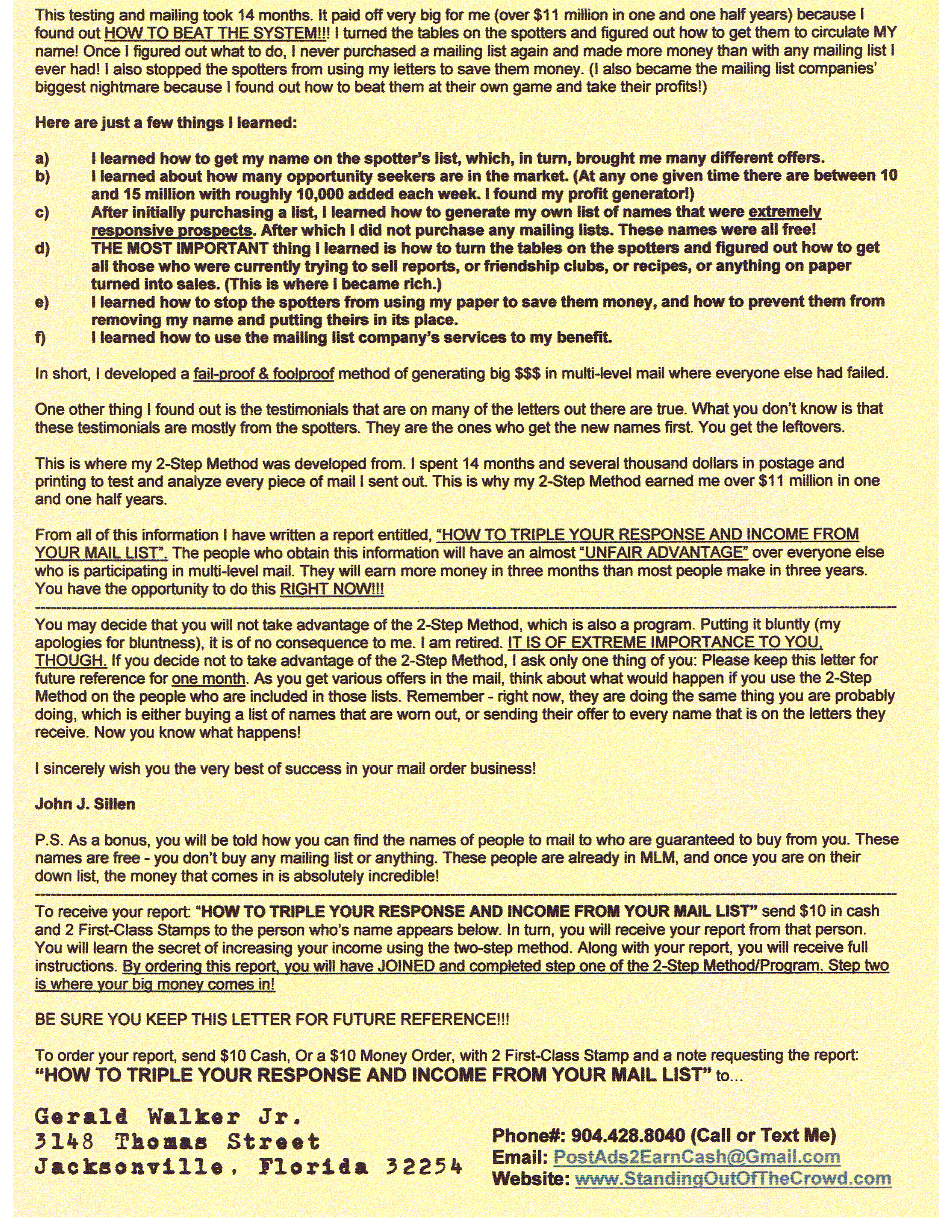 -- Page 3 --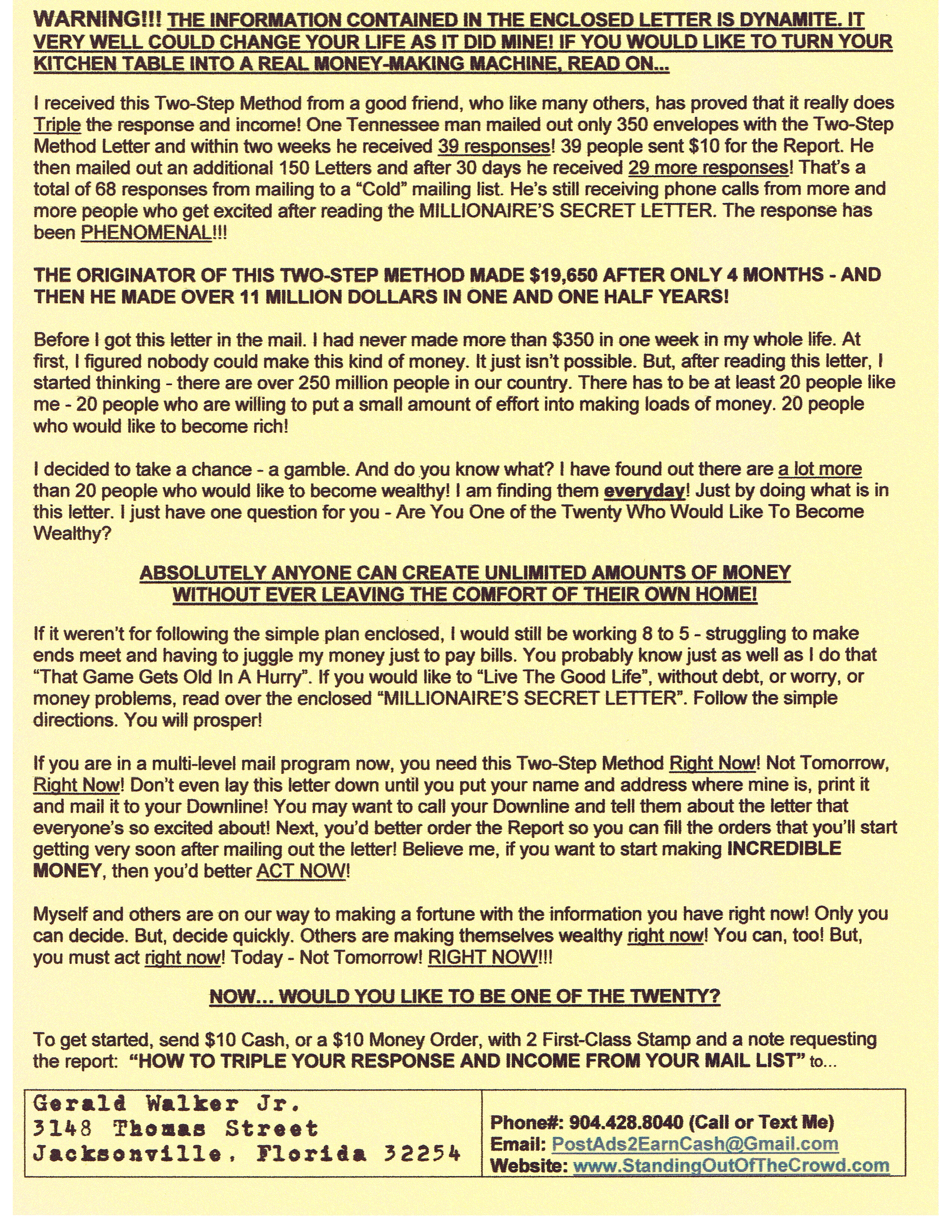 -- Page 4 --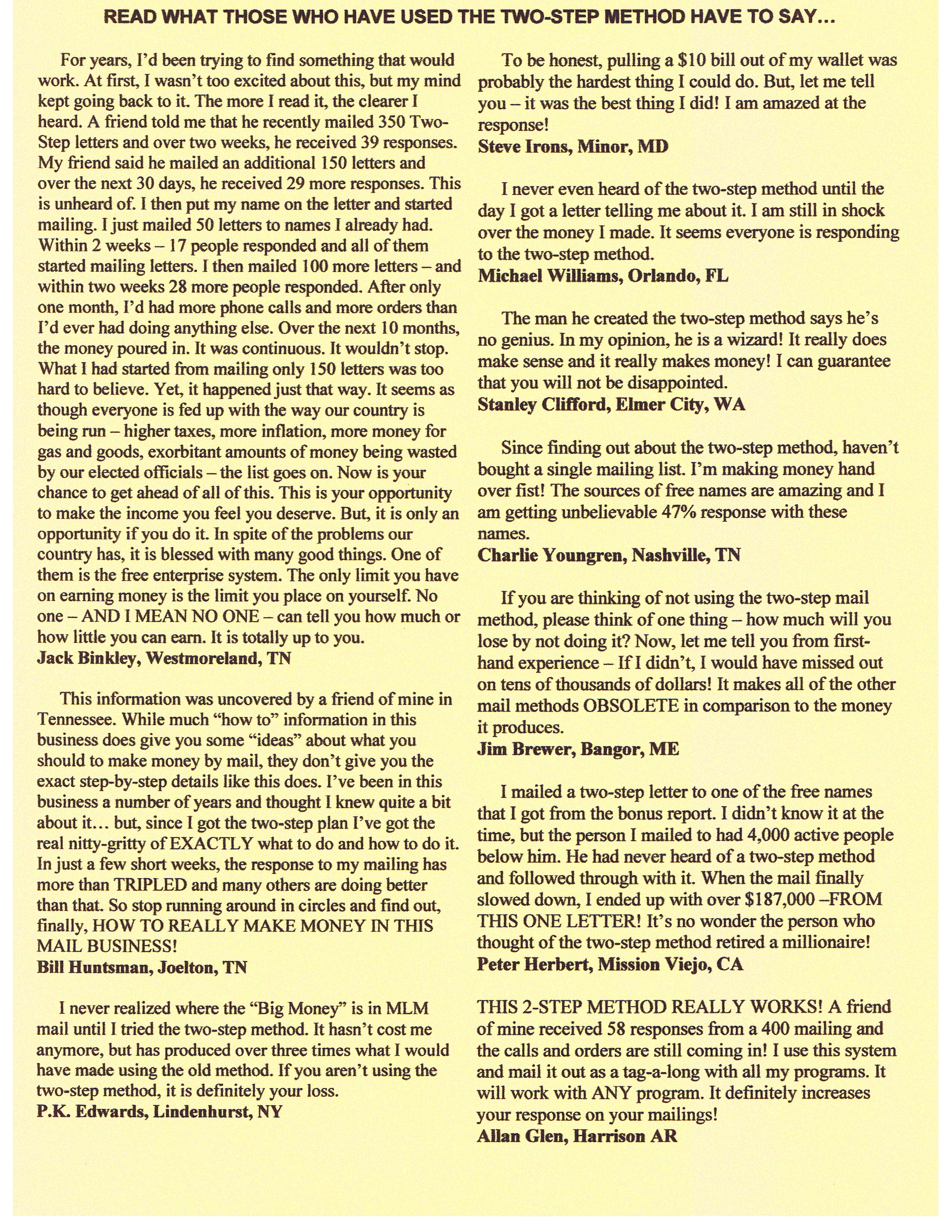 I hope this letter has you just as excited as I am to know that we can turn the tables around and make a killing in the Mail-Order Industry!
Why Does The 2-Step Method Program Work?
1.
You're aren't Competing!
Everyone else, aside from other 2-Step Method Distributors, is sending out "Their" Business Opportunity in the mail with the sole purpose of getting people to join. Our program teaches a strategy for success in the "Mail-Order Business" & it is also a "Business Opportunity" that people can earn money with. Our opportunity shows (One) How almost all of the other Mail-Order Entrepreneurs out there are being scammed by "Pro-Mailers" & "Mail List Companies" and (Two) How to Overcome this scam and Triple their Responses & Income!
2.
You are providing a valuable product!
Unlike other programs, this program requires
each
person participating in the 2-Step Method program to provide VERY important pieces to the 2-Step Method. In exchange for a fee,
each
person provides 1 of 4 Reports that are VERY important pieces to the
"2nd Step"
of the 2-Step method. The
"1st Step"
of the 2-Step Method program is you becoming a distributor by ordering the initial report…
"How To Triple Your Response And Income From Your Mail List"
and to start mailing out the 4-page letter advertisement you just read above...
"A Millionaire's Secret Is In Your Hands Right Now!"
.
3.
The 2-Step Method is easy to operate!
You're just sending out mailers with the 4-page sales letter to find others who are interested in tripling their success with their mail-order business/direct-mail business. In my advertising efforts, I've added an online component to the 2-Step Method – this website you're on! If you'd like to promote this online as well as offline just shoot me an email!
4.
It's YOUR program!
You're not an affiliate or a member. You own the rights to this program when you decide to join. People don't want to have their hands tied as to what they can do to promote this program. Fortunately, you can advertise this as a stand-alone or as a joint product. It's your biz! *The only thing we ask is that you don't modify any of the original documents and reports.
So, What Will YOU Be Doing?
STEP #1 - Is to join by ordering the Report... "How To Triple Your Response And Income From Your Mail List" for $10 bucks
STEP #2 - Follow the instructions on the... "Until You start Working" document.
And that is the 2 STEP Method!
Now, the first thing you should do is contact me to get started. Then, follow the directions in the 4-Page letter. Be sure to contact me by phone or email to let me know you are going to become a distributor.
I know you're viewing this on the Internet, but I run this
Program
"Online" and "Offline". I send the 4-Page letter through the mail and I also run online advertisements to drive traffic to this website for people to read the 4-Page letter. I've also recently incorporated postcards into my advertising routine for the 2-Step Method. This website facilitates/helps my promotion of the 2-Step Method. If you decide to join, I will show you how to put a website together just like this one - I'll show you where to get free hosting and a free domain name! Or... you can just pay $25 dollars and I will take care of it for you.
Below is a link to a downloadable copy of the letter you just read above. This will be the same letter you will mail out or advertise online, but where my Name, Address and other Contact Information is - you will place your personal information.
When you join as a distributor of the 2-Step Method, I will give you ALL of the documents you need to get started.
*Click on the link below to download and save the letter.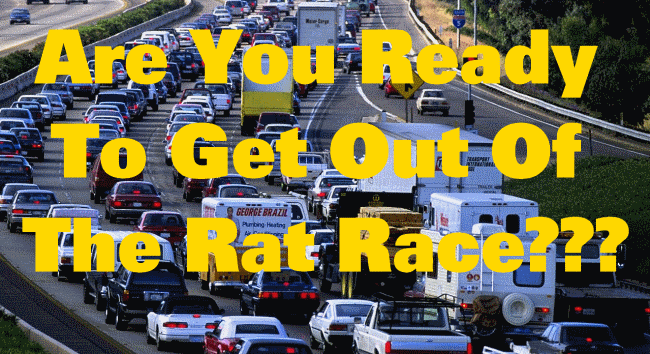 The first thing you need to do is order the report "HOW TO TRIPLE YOUR RESPONSE AND INCOME FROM YOUR MAIL LIST" as soon as possible. Along with this report, you will get everything you need to become a 2-Step Method distributor.

When you send in your order for the report Send $10 Dollars Cash or a $10 Dollar Money Order & 2 First-Class Stamps to:

Gerald Walker Jr.
3148 Thomas Street
Jacksonville, Florida 32254

(Follow the directions in the 4-Page letter about ordering this report from me)

To expedite everything, send a text to my phone or shoot me an email so that I know to expect your order. As soon as I receive your order I will contact you to let you know I've processed your order and everything is on it's way. My contact information is in the letter above and here below...

Phone#: 904.428.8040
Email: PostAds2EarnCash@Gmail.com

I look forward to helping you get started!

Gerald Walker Jr.

P.S.
When you get started I will share my simple, personal system that will help you get "Unlimited Leads" for life!